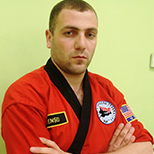 Hovhanness Vardanyan
Ararat Martial Arts Instructor
We are glade to announce appointment of our new martial arts instructor Hovhanness Vardanyan.
Martial Arts is fun & beneficial to any child. It provides health, fitness, self-defense, self-cultivation (meditation), mental discipline and character development and self-confidence. Ararat Martial Arts offers a place where kids can be independent, disciplined, meet friends, play sport & get to know their community.
Training & progress in sport of martial arts materializes only when practicing under supervision of qualified instructor.
Our Vision in Ararat is to serve our community at large and our youth in particular by providing a safe environment and fun programs that enrich our members' lives and help them become better citizens of our community.
We strongly believe that Hovhannes can be a great component of this vision. He is responsible, hardworking, and self motivated. He maintain positive attitude, and is a great mentor and motivator.