Roobina Arshakian – Chairwoman
Roobina Arshakian has been a member of Homenetmen Glendale Ararat since 1987 when she joined her first basketball team. She continued to play basketball until she was in the "A" Division. In 1989 Roobina joined the scouting division where she rose through the ranks and served as both a troop leader and eventually a Unit Commissioner.
In addition to serving on numerous committees throughout the years, she has served on the Ararat Family Camp committee from 2014 up until the present, and the "A" Division Basketball Committee from 2015-2017. She served as the Chapter Executive Board's Vice-Chair from 2018 through 2021.
Roobina met her husband Nerces during the time when they were both scout leaders. They married in 2006 and have two daughters, Lori and Milen. Both of their children are currently involved in Ararat's scouting program, gymnastics, and volleyball team.
Roobina graduated with a Bachelor's Degree in Biology and later went on to law school where she earned her Juris Doctorate degree in 2006 from Thomas Jefferson School of Law located in San Diego. In 2010 she started her own law firm where she focuses on all matters related to family law. For Roobina and her family, Ararat is, and always will be, their home away from home.
Saro Khemichian – Vice Chairman
Saro Khemichian has been a member of Homenetmen Glendale Ararat since 1989 when he joined the scouting and athletics divisions. He played basketball for a number of years and remained active with Scouting. He served both as troop leader and Unit Commissioner.
Saro has served on the Ararat Family Camp committee from 2014 up to present. He has also been a coach for the D-League basketball program for several seasons. He met his wife Narineh in scouts and they eventually married in 2002. They have 3 children, Nairi, Lori, and Miro. All three children are proud and active participants of the scouting division.
Saro graduated with a bachelor's degree from UCLA and subsequently attended medical school at Keck Medical School of USC. He graduated in 2003. After completing his residency and fellowship at Los Angeles County-USC Medical Center he was eventually hired by Keck Medical Center of USC as a Transplant Hepatologist. Saro joined the CEB in 2020. He is very excited and considers it an honor to be a part of such an amazing and dedicated group of Homenetmenagans.
Talin Mardirossian – Secretary
Talin Mardirossian became a member of Homenetmen Glendale Ararat in 1987 when she joined the athletics and scouting divisions. She continued playing basketball and coached for many years. She met her husband Narbeh during the time when they were both coaching basketball.
Their children, Lara and Alex, are members of both the scouting and athletics divisions. She has always been involved in the kids' teams as a team parent. More recently, she has chaired the volleyball committee since 2020.
Talin graduated with a Bachelor's Degree from UCLA and continued her education at USC, School of Pharmacy. She has been a practicing pharmacist since 2003. Talin joined the Chapter Executive Board in 2022.
Harmik Sarian – Treasurer
Harmik Sarian has been a member of Homenetmen Glendale Ararat since 1979 and was both an athlete and a scout. Some of his leadership positions included serving as Ararat's Scout Master, taking part in the regional Scouting Council, and being a member of Ararat's Executive Board in the 80's.
In the early 90's, Harmik became a member of the Regional Executive Committee for 4 years and led the Navasartian organizing committee. Harmik met his wife Marisa in scouting and both of their sons were scouts and athletes at Ararat.
He has a Bachelor of Science in electrical engineering, worked as an Engineer at Xerox Corporation for 22 years and changed carriers in 2008 and became an independent insurance broker.
Melineh Younanian Adoian – Advisor
Melineh Younanian Adoian has been an active member of our Homenetmen Glendale Ararat since 2005 where she has served in various capacities. Within the Basketball Division, she has been a committee member before chairing the Basketball Executive Committee and the Parent Support Committee.
Melineh has also been active in the Easter Carnival fundraising committee. Her husband Roobik and their two sons, Alex and Areg, are all members of the Basketball Division as both players and coaches.
She has served on the Chapter Executive Board since 2017. Melineh works as a registered dental hygienist in private dental offices in Glendale and Sylmar. Her vision is to keep our Armenian community strong and united.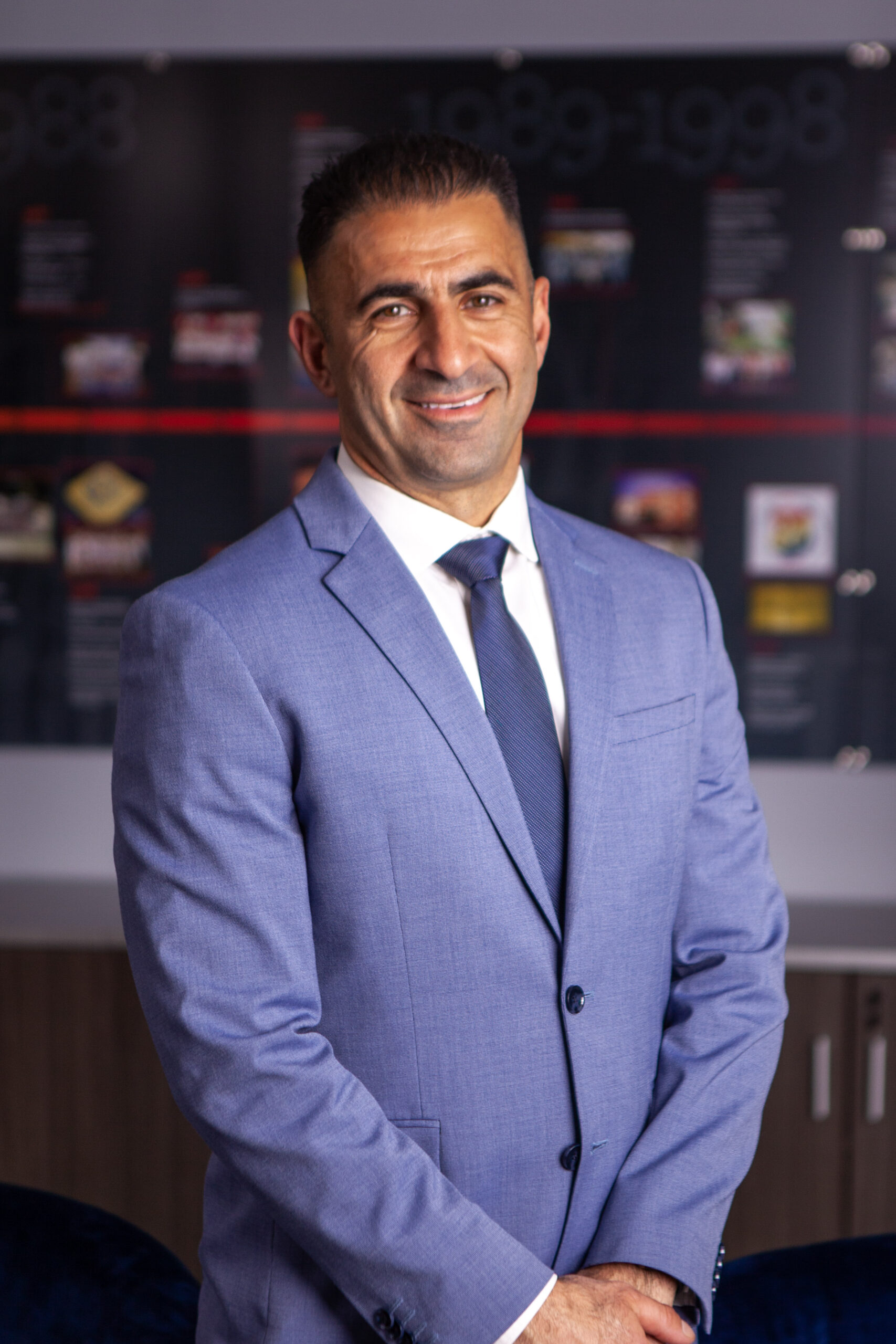 Henrik Sardarbegian – Advisor
Henrik Sardarbegian has been a proud member of Homenetmen Glendale Ararat since 1988. Throughout the years, he has gone from being a basketball player, to a coach and has been a member of the Executive Board since 2018. His love for the game of basketball has opened various opportunities in his life and has used and continues to use the lessons he has learned in basketball in all aspects of his life.
In 2005 & 2011, Henrik has participated in Armenia as a member of the Glendale Men's basketball team. Henrik joined the Hoover High School Boys' basketball program in 2005 which eventually lead him to take on the role as the Varsity Head Basketball Coach. He was named the Pacific League's Coach of the Year in 2008. In 2009, he married Veronica and the two have two young boys, Eric and Leo, born in 2013 and 2014. In 2017, Henrik was selected as the Men's Basketball Coach to represent Homenetmen Western Region in the Homenetmen World Games where he and his team won the championship.
Henrik graduated from Cal Poly Pomona with a Bachelor of Science degree in Business Administration and Marketing and went on to Southwestern's SCALE program to earn his Juris Doctorate degree. He started his own firm, Sardarbegian Law.
Caroline Mikailian – Advisor
Caroline has been a member of Homenetmen Glendale Ararat since 1978 where she started as a Scout and later joined the Youth Division where she served as an executive committee member for 3 years.
After a short break she joined the Programs Division and served on its executive committee for several years.
Caroline attended UCLA and CSUN and owns and operates her own business in the fashion industry. She has served on the Chapter Executive Board since 2019.
Armen Aboulian – Advisor
Armen joined the Ararat family in 1990 as a young boy scout and excelled through the ranks to the title of scout commissioner. Scouting combined his affinity for the outdoors with the love of spending time with friends. Armen has been active in the Scout Dads committee and the basketball division.
He enjoys watching his daughters go through the Ararat school of life and develop characteristics and skills that follow the Homenetmen "Elevate yourself and elevate others" motto. Armen earned his Bachelor's Degree at UCLA and his Medical degree from UC Irvine and currently practices as a general and colorectal surgeon.
Arbi Madirossians – Advisor
Arbi Madirossians has been a member of Homenetmen Ararat since 1987 when he joined as a cub scout. Throughout his scouting career, he rose through the ranks and eventually became Ararat's Scout Master. Subsequently, he was elected to Ararat's Executive Board where he served for 3 years.
Arbi took a brief break from Ararat and in the meantime, got married to Celine and they currently have three children. Emile, who is 8, joined the Scouts in 2022 to follow his dad's footsteps. He has also been participating in the basketball program for a few years now and enjoys the Ararat summer programs every summer very much! The younger ones are equally excited to join Ararat in the coming years and participate in different activities that the organization offers.
Arbi graduated from California State University Northridge with a degree in Business Administration and Marketing. He has worked in IT at several Fortune 500 companies, utilizing his leadership and project management skills that he learned while serving at Ararat.